So the owl was delivered today!! Super excited on my part and crying on the mom's part..lol. She loved it and I'm glad she's glad and then I'm also glad because I can move on to a new project.
Thankfully it came out better than my picture taking abilities!
I'm in for a quick project for my next start and I have to work on a few that I've got in progress.
Couple of more baby projects in the works, a black cat hat for friends of our daughter who are expecting boy and are HUGE Carolina Panther fans. Dad has a running bet/fear that the baby will be born on the first home game of the season..lol. So I thought a cat hat in panther colors would go over great as well as be a bit of fun. Mom is 26 and due in September, really active still, in fact she ran a 5k a week ago, while I'm lucky to get the yard mowed and trimmed in one weekend. I'm afraid my age is showing! It's strange to think these kids that bickered on the swings and made mud pies will be swinging with their own babies soon,,,time certainly flies.
In that black hole that is pintrest I found this
super cute square
that I'll have to work into the next baby blanket.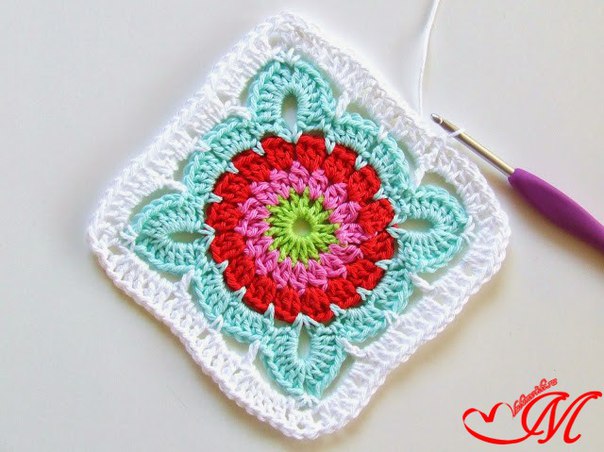 I think I'd use it like my pink and green squares in progress. I haven't made much progress on those but I'm working on granny stitches around the connected center squares and then once it reaches a certain size I'll add another round of squares and then a boarder. Kinda like a simple Wendy blanket. Which of course is on my wish list!
As far as what's taking up all of my time this week it's still figs, this weekend was Fig Strawberry and Fig Marmalade.
I need to start some plants for the fall garden but it's way too hot to start anything outside, so I'm digging into the stash for the next project!
Have a great week and check out more ideas and updates
here,
or join us on our Year of Projects journey.